The construction industry is in a constant state of change, and those who want to be in the know about what is happening in every corner of the industry need to be plugged into the right resources, and more importantly, adapt the right qualities and skills to be a successful tradesman.
But what makes a successful tradesman?
Their work ethic? – possibly.
Their customers? – Could be.
Their experience? – Yeah, of course.
But a successful tradesperson is heavily reliant on their tools. Here at Everythingbranded, we have a wide range of tools all shapes and sizes to fit your needs and wants.
Daria Bandana in Microfiber




The Daria Bandana is vital for any tradesperson, especially in these unique times but the seamless tubular bandana can also be used as a Headband, Wristband, Scarf or Balaclava. This can be used to prevent dust, micro bacteria, and other particles from reaching you as well as being able to be printed in up to 6 colours, so it is easy for you to market your brand whilst working and protecting yourself.

Teamug Ceramic Tea Mug 300ML


A combo close to cream and cake? Construction workers with a tea. Whether it's two sugars or a drop of milk, survive whatever comes you and your mugs way with a pottery Mug. From balancing on ladders to being in a dusty environment, the Mero pottery mug is suitable for all work atmospheres such as offices, building sites, factories and workshops and can be customised with your brand and is available in black and red also.
Hi Vis Waistcoat







An obvious but easily forgettable item for tradesperson. High-visibility clothing must be worn in any construction zones that vehicles operate in. This also applies to drivers when they leave their vehicle. High-visibility clothing is often a sleeveless top, but it can be anything that makes it clear that the person on the construction site is seen from a distance as well as at night. The Hi Vis Waistcoat can be printed on the front or back which is perfect for exposing your brand and is available in a range of sizes.
Mia Measuring Tape 5MTR




An underrated but vital tool is the TT5 Tape measure. Perfect for measuring precise angles as well as lengths, you can market your brand with this tool as it is printed on deluxe dome label in full colour as well as reaching 5M/16ft.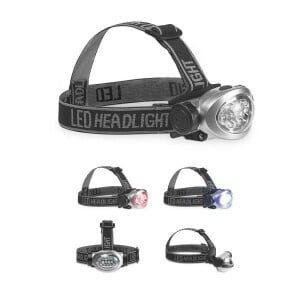 For them extremely early starts on the docks or the long nights on the roads, make sure you're ready for what lies ahead and brighten up your shift with the LED head torch. With an adjustable ribbon attached and a flash function, this is the perfect tool for any dark setting and includes 3 AAA batteries.
Stantech 6-Function Multi-Tool with LED light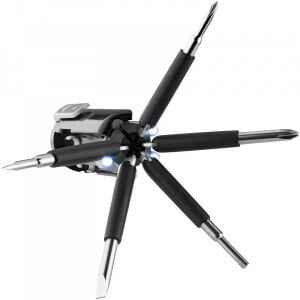 Why have six when you can have one? One containing six for that matter. The Stantech 6-function multi-tool with LED light is ideal for anyone who wants to save space and time as it allows you to access a foldable screwdriver tool for torx, flat and Philips styles and 4 white LED flashlight with on/off power switch on the back. Includes 2x AAA batteries.
Duty Adjustable Multi-Tool wrench with LED light




The adjustable multi-tool wrench is another cool and innovative idea which can gain you them extra seconds or minutes on a job with the accessibility of 3 screwdriver bits, a knife, saw, can and bottle opener all in one as well as being able to customise with your brand or logo.
Guillaume Foldable 25 Piece Tool Set





For those big jobs, make sure your kitted up well with the foldable 25-piece tool set. With a one colour location set on the front of the kit, the ideal tool set also includes tweezers, 6 pc screwdriver set, extender, 4 pc socket set, flat-nose pliers, cutting pliers, and a 10pc bit set.