Are you a hotel owner? You may oversee the sorting out of décor in your B&B, or just want to rent out your guest house for the weekend. As the UK hotel sector works towards a tentative July 4th opening date, it may be a corporate event or just for sprucing up your front lobby. It may not even be a hotel, but an events sector you are wishing to cater for, we have you covered ranging from decorative items to cosy slippers your guests crave.
Here at EverythingBranded, we understand that the Hospitality and Tourism industry has not been the norm, but we are determined to get you and your business back on its feet with our Top 10 products that are vital to get your company booming once more.
1. REFLASK 500. BOTTLE WITH DISPENSER 500 ML
Greet your guests and staff, allowing them to put safety first with this simple 500 ml custom bottle with dispenser, allowing you to convey your brand or message. The importance of printing your own logo on personalized Bottle will allow you to create an effective and impactful message as this can be re-filled with sanitizer or any other fluid as well as can be placed in rooms, lobbies, halls, and corridors.
Enlighten and welcome your guests for a stay within your grounds with a pair of disposable bedroom slippers which are also suitable for travel and indoor use. Available in either White or Black, these slippers can also be customised with a 1 colour logo and is supplied in a drawstring pouch.
3. CHASE FRIES AND SAUCE HOLDER
In a quite unique design and a distinctive invention, the fries and sauce holder gives you or your guests the ability to carry both their fries and sauce with one hand and is easily accessible for the user and can be used with a variety of snacks. Even the sweet ones.
4. HERCULE. MUG
Another unique and clever design would be the Ceramic mug with spoon in paper box. This convenient product would be perfect for your guests in either their rooms or in an exhibition lobby displaying creativity and saving time and mess! With a special gap within the handle, it allows space for the small spoon to fit in which is the same colour as the ceramic base of the mug.
5. BORDEAUX. WINE SET

Be the elegant host you've always desired with this mesmerising wine set. Accompanied with a 1600 ml bottle and two 450 ml glasses, this Bordeaux wine set will enlighten your guests but also be the perfect item for yourself or staff to wind down with.
6. NOSLIP. NON-SLIP MAT

No accidents or awkward falls with this non-slip mat. Available in black or green, this prevents any awkward falls and nasty accidents such as coming out the shower or after mopping up a floor. Available with a one colour logo and can be used repeatedly. A lifesaver, literally!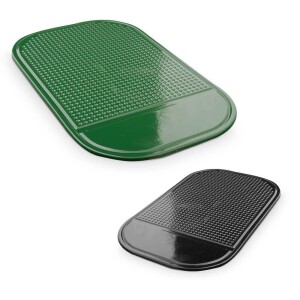 Keep everything stylish and impressive with a modern suit holder. Preventing any dust or stains from reaching your chosen outfit and allows easy transportation with its coat hanger handle and its Non- Woven material, this is the ideal garment protector.
Allow the Aurora sleeping mask to add a quiet touch for your guests with an option of a one colour logo as well as two elastic strips to allow a comfort fit without any distraction. Also available in black, blue, white, and grey.
9. EASTPORT 550 G/M² COTTON 50 X 70 CM TOWEL
Dry off your guests with a thick, 100% cotton-based towel which is also can be used a spa towel as well as a bath one rich with quality and with the length of 50cm x 70cm. This item can also be imprinted with a one colour embroidered logo.
10. LANY LANYARD WITH METAL HOOK
Ensure all staff and team members are kitted up with ID badges/ lanyards with a lanyard which has a metal hook, perfect for grip of badges, fobs or passes and are easy to access but is also not in the way with its 20mm wide stature and a dye-sublimation print available, this is ideal for any welcoming staff, to show who and what resort they represent.